Þrá is a very high stepping four-gaited Kolkuos mare.
She has a lot of action and flashy gaits. Her sweet temper and easy
nature makes her a safe and reliable trail and show horse.
Further, her quality bloodlines make her an excellent broodmare.
We are very fortunate to have such a mare come to the US for breeding.
Þrá is foundation mare quality. We hope to build upon that linage here in Texas.
Þrá had her foal by Tígull frá Gygjarhóli. See Sjóli under "Young Ones".
She also had her foal by Oskar frá Litla-Dal. See Miska under "YoungOnes".

Þrá has been bred to Stefnir for a foal in 2012.
That big pinto colt just arrived: May 28th, 2012 (Memorial Day evening)
And this young colt is so TALL that he's having trouble getting down far enough to nurse.
Thinking of calling him, Gandálfur.
Þrá will be bred again in 2016 for a foal in 2017 from Litli-Tangó.

Lineage of Litli-Tangó fra LoneStar & Þrá frá Akureyri


Kolbakur frá Kolkuósi, grandfather of Þrá, father of Þrá's mother, Snerra.


Óskar frá Litla-Dal, who sired our mare Miska, out of Þrá.

Go to the Top of this page
---
---
Harpa frá Skriðu
Harpa frá Skriðu (14+H), sire: Galdur frá Sauðárkróki (8.59 for talent)
Galdur was one of the hottest Icelandic horses EVER ... he could breath some fire! ;-)
Harpa is very strong and energetic like her sire, though she also listens to her rider.
Harpa is both quite young and also quite friendly, though she can really move!
Her foal (Mánadís) by Moli frá Skriðu has arrived. (Moli is viewable
immediately below.) Mánadís has inherited some of her grandsire's fire. She is
quite engertic. Mánadís has also inherited Moli's lift and she can really move!!!
Harpa is now confirmed pregnant by Stefnir for a 2009 foal. That foal is Lakota.
We're expecting a black & white pinto! ;-) Harpa's & Stefnir's foal has arriived 6/9/09.
Lakota frá LoneStar is a white & black pinto stallion. He is mostly white with a black
tail, chest, neck/head with a large moon & large snipe! Named after the western most Sioux,
the Lakota.

They're called Ice-land-ic horses for more than just one reason.
That's ICE that Moli is being ridden on, with foot lift to his chest.
Moli is out of the stallion, Glampi frá Vatnsleysu, who has a 8.68 for talent,
and the competition mare Gullinstjarna frá Akureyri, who has 9 for tolt
and general impressions. Moli, like his father Glampi, has huge movements.
Moli has now been evaluated and has recieved an 8.36 for talent, with a 9.5 for
trot, and 9.0 for tolt, spirit and general impressions, with an 8.5 for gallop.

Moli frá Skriðu - 1st Prize - now in Norway.
[ Thor and Moli frá Skriðu -- Icetolt at Reykjavik. About late March, 2006.]

Go to the Top of this page
---
---
Skrýtla frá Böðmóðsstöðum


Skrýtla frá Böðmóðsstöðum is a very talented mare.
Her sire had a 9 for tolt, gallop & general impressions. She is a power house!
You want to go faster? Just let out a little rein.
You never have need of either leg or crop.
Skrýtla has a lineage much like Stefnir and few of my other horses.
Her paternal grandfather is the descendant of Hrafn frá Holtsmúla (stallion 802), through
Kolfinnur from Kjarnholtum I. Both of these stallions have Honor Prize for their offspring.
Her paternal grandmother is the descendant of Náttfari frá Ytra-Dalsgerði, the son
of Sorli frá Sauðárkróki, a son of Siða frá Sauðárkróki,
all three of which also have Honor Prize for their offspring.
Skrýtla has been bred to Stefnir for a 2011 foal.
Skrýtla's foal, Orka♥, arrived in June 21st, 2011. She is a precious tolting 5 gaited pinto filly.

Go to the Top of this page
---
---
Ósk frá Árholti
Ósk frá Árholti, a bay dun Icelandic mare, my first Icelandic mare, arrived in Texas 2001.
She's 13 hands 2 inches, about 15 years old, 4 gaited.
Ósk is a descendant of the very famous breeding stallion Hrafn frá Holtsmúla.
Ósk's 2nd foal arrived in May 2005, See Krunur under "Young Ones".
Sæta is her first foal out of Hilmir frá Sauðárkróki.
Her 1st foal by Stefnir arrived April 2007, see Blíða frá LoneStar under "Young Ones".
Ósk second foal by Stefnir arrived June, 2008. See Tjaldari under "Young Ones".
Ósk is producing some very nice offspring. I'm quite impressed with them. Ósk is
the very best mother and she really loves it and it shows.

Ósk was bred in 2009 but tried to have twins. She is confirmed pregnant to Sjóli in 2010.
Ósk's daughter, Stúlka, arrived in July of 2011. She is a pretty light bay dun.


Go to the Top of this page
---
---
Gyðja frá Víðimel
Gyðja frá Víðimel arrive in the US in 2002. Sho also has a foal sired by Hilmir frá Sauðárkróki.
She's 13 hands 2 inches, about 16 years old, 5 gaited, and has received a 7.8
for conformation at evaluations, age 4. Pure Kolkuos/Austanvatna bloodlines.
Gyðja is sired by Stígandi frá Sauðárkróki (honorary 1st prize stallion).
Until 2009, She has had only stallion prospects, one of which was by Fengur frá Ibisholi.
Gyðja has been bred to Stefnir (the son of Fengur frá Ibisholi) for a 2009 foal,
which has now been born. She had her first filly ever, Esja frá LoneStar, a beautiful
five gaited elegant built pinto filly, born 8/30/09.

Our most beloved Gyðja

Stígandi frá Sauðárkróki <> 1st Prize
Tigull's and Gyðja's sire, who has Honor Prize for his offspring.
Stígandi was sired by Þáttur frá Kirkjubæ, a very famous breeding stallion.
Þáttur also has Honor Prize for his offspring.

Go to the Top of this page
---
---
Sæta frá LoneStar
Sæta, 8 years old, daughter of Ósk & Hilmir frá Sauðárkróki.
She has very good conformation, disposition and a lot of personality and good
suspension in her gaits. She is rather energetic. Yes, she can untie herself and
then any other horses around. :-) She is smart and strong willed.
With people, she is quite personable & the sweetest. (Hilmir is pictured below.)
The color of all my bay duns are like buckskin leather, which is somewhat rare in Icelandics.
Sæta's lineage
Sæta has completed her gait training. So far, she is soft in the mouth,
bends well, has long strides and is rather forward going. She is extremely light
to the point that the rider feels nothing in their hands. She hold herself almost
vertically naturally.

Sæta was bred to Tangó frá Strandarhöfði, a first prize 5 gaited
stallion and foaled in May of 2010.
Princessa arrived May 6th, 2010. She is such an awesome foal that we re-breed
Sæta to Tangó frá Strandarhöfði for a 2011 foal (confirmed pregnant).
Litli-Tangó frá LoneStar (aka) Little Tangó is the result. See him under Young Ones.

Sæta will be bred to Sjóli in 2016 for a foal in 2017.
Sjóli & Sæta's offspring's lineage

These were taken June, 2005, at almost three years of age.

Totally Airborne. This girl can fly! :-) She can drive from the rear end quite well ...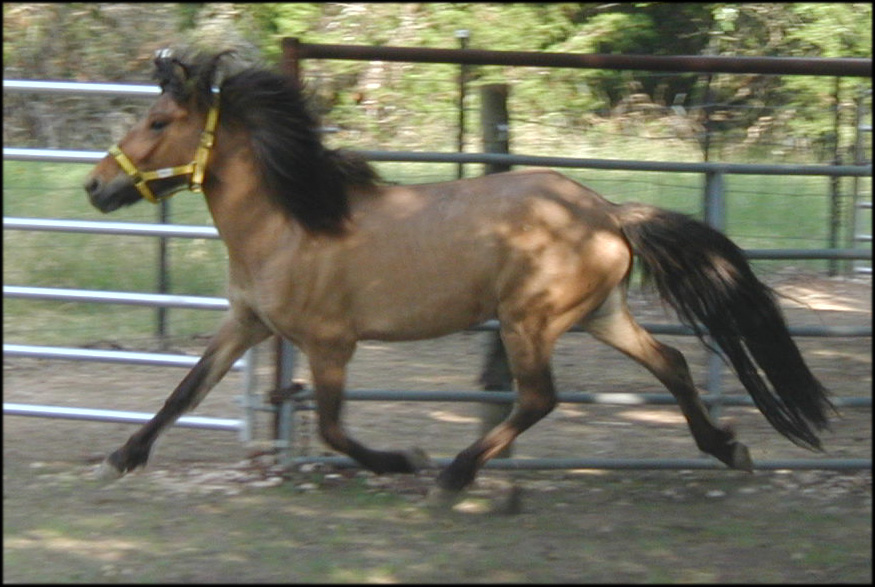 Sæta at almost five years of age, June 2007.
Currently Sæta completed her initial training and is now in her gait training.

Go to the Top of this page
This is Sæta's (and our Tappi's) father: Hilmir frá Sauðárkróki [IS1992157001],
a first prize bay dun pinto Icelandic stallion with a 9.5 for flying pace.

These two pictures were take by Lukka (2001), when she delivered Ósk to Hilmir for
the breeding, that resulted in Sæta.


Go to the Top of this page

---
Stássa frá LoneStar
Stássa is the daughter of Rut frá Litlagarði & Asi frá Kálfholti (Kolkuos), arrived 7-13-2007.
She's a chestnut filly with a star. Stássa will have a very light & long flaxen mane like Asi.
Grandsires: Feykir frá Hafsteinsstöðum & Markús frá Langholtsparti (son of Orri frá Þúfu)
Both of which are 1st Prize and Markús has First Prize for offspring.
In addition she traces her lineage to the following stallions: Þáttur frá Kirkjubæ (Honor Prize),
Hlynur frá Báreksstöðum (1st Prize), Otur frá Sauðárkróki (Honor Prize),
Orri frá Þúfu (Honor Prize), Ófeigur frá Flugumýri (Honor Prize),
Lettir frá Kolkuósi, Rauður frá Kolkuósi, Snæfaxi frá Kirkjubæ.
Stássa is already showing some amazing movements, characteristic of Asi's
offspring. Stássa means "dashing, fancy mare". Stássa is a muscle bound young
mare, i.e. very strong &amp powerful like her mother, Rut. While Stássa is not very
tall, she is very broad chested. She is NOT for sale. This is a hot competition level mare.
The first picture was taken when she was about 3 yrs of age.
Stássa has been bred to our Sjóli in 2011 for a foal in 2012. Confirmed pregnant.
This foal has been born, May 26th, 2012, i.e. Sjóli's birthday. It's a filly.
I actually helped this one get born. :-)
Thinking of Þokkadís, i.e. Goddess of Beauthy.
Stássa's lineage

Stássa's BLUP

Lineage of Sjóli & Stássa's offspring: Þokkadís
110 Conformation BLUP, 108 Talent BLUP (probably 4 gaited)
Tolt: 108, Trot: 110, Gallop: 108, Spirit: 106, General Impressions: 109!

This picture was taken at age 3. She is now nearing age 7. Her mane & forelocks are twice as long now.

Stássa's father: Asi frá Kálfholti

---
This is the Honor Prize Hervör fra Sauðarkroki, Hilmir's grandmother & mother of Hervar,
Otur's father. Hervör looks very much like our Esja, with side panels and verticle rump stripes.
Both Esja and Hervör have lean elegant builds. Esja has a bit more black than Hervör.

This is Siða fra Sauðarkroki, the 1st Prize matriarch mare of the Sauðarkroki breeding line
and Hilmir's great grandmother. Siða is also the great grandmother of our stallion Stefnir.
She looks pregnant in this picture. Every horse we have with only two exceptions trace their
lineage to this mare, i.e. Elja & Osk. Siða has Honor Prize for her offspring, as do several
of her close decendents.

Go to the Top of this page
---
---
Elja frá Arbakka
Her sire, Rodull fra Akureyri, was a rather special "proud" large chestnut 1st Prize Kolkuos stallion.
Rodull's father, Kristall fra Kolkuosi, was a 4 gaited competition stallion, that had a 9 for tolt.
Elja is almost pure Kolkuos, with some Svadastadir mixed in, a rather rare and diminishing breeding
line within the Icelandic breeding culture. She deserves special consideration for her old
ancentry and distingued breeding line. I'm doing all that I can to keep this sub-strain alive,
to preserve this special old breeding line. Many of the best horses in Iceland trace their lineage
to the old Kolkuos bloodline.
Elja traces her lineage to the following stallions: Hörður frá Kolkuósi (Honor Prize),
Lettir frá Kolkuósi, Stigandi frá Kolkuósi, Rauður frá Kolkuósi
and Kristall frá Kolkuósi (1st Prize). Lettir decended from the Vatnsleysu bloodline.

This old breeding line may yet be preserved if we keep trying.
Elja's and Tangó's black filly (Rún) arrived 7/27/2010.

Elja demonstrating her smooth pace, no water spilled. :-)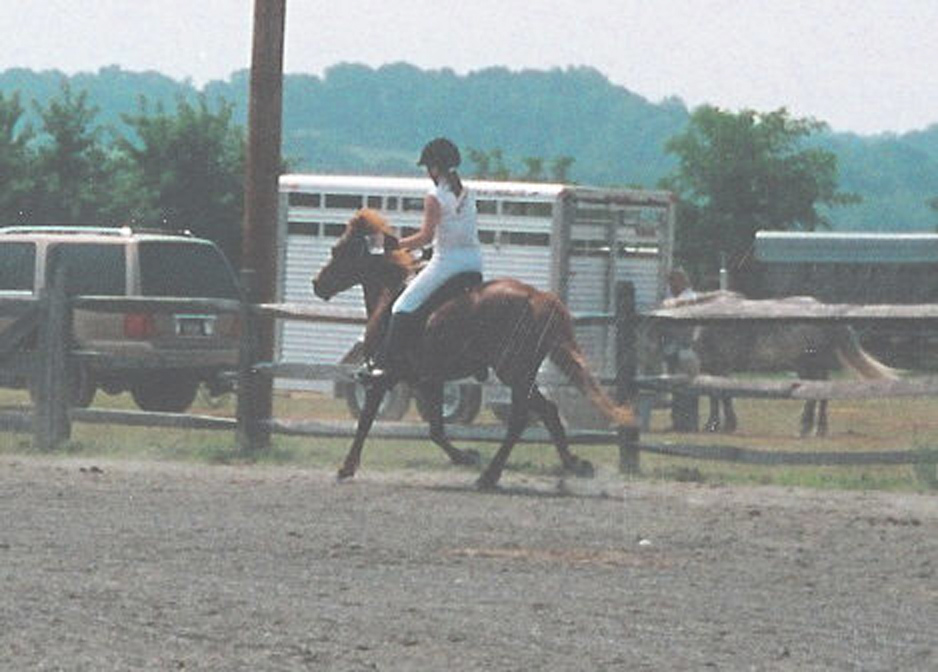 Rodull fra Akureyri, Elja's father, a first prize Kolkuos stallion.
Rodull was just over 14 hands, rather tall.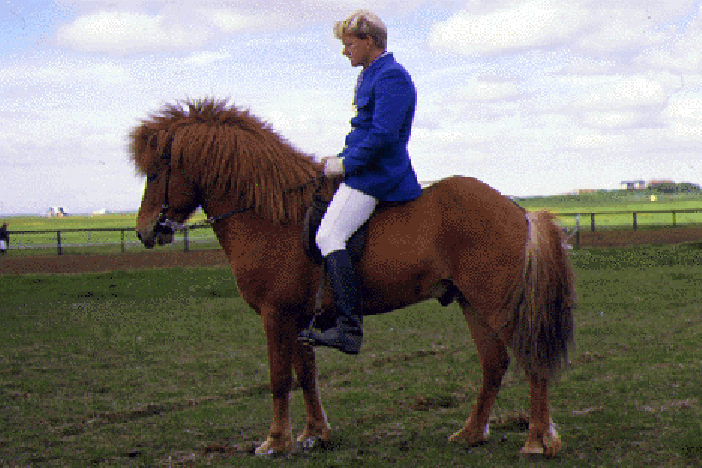 Go to the Top of this page
---
---
Don't cry for the horses that life has set free-
A million white horses forever to be.-

Don't cry for the horses now in God's hand-
As they dance and they prance in a heavenly band.-

They were ours as a gift, but never to keep-
As they close their eyes forever to sleep.-

Their spirits unbound. On silver wings they fly-
A million white horses against the blue sky.-

Look up into heaven, you'll see them above--
The horses we lost, the horses we loved.-

Manes and tails flowing they gallop through time.-
They were never yours - they were never mine.-

Don't cry for the horses. They'll be back someday.-

When our Time is gone, they will show us the way.
Do you hear that soft nicker? Close to your ear?

Don't cry for the horses. Love the ones that are here.-

Author
Unknown-

Try to not cry for the horses that we've lost, yes it's hard,
but really Try hard to focus on Loving the ones that are still here with us!

Go to the Top of this page

---

---

<[[ © 2001-2019 C E C, No portion thereof may be used without permission.]]>

---