Harpa & Stefnir's pinto colt arrived, Lakotah is very active and is very five gaited.
Lakotah is very brave and comes right up to us. He is a VERY TALL boy (14H) for his age, which is not
all that surprising considering Harpa is well over 14 hands.
Lakotah has a rather striking appearance. He's predominately white with a black head/shoulders and tail,
with one black spot on his back, which will not show under saddle. Lakotah has a rather refined
build, with a refined well raised neck, an attractive head & face. Lakotah is a bit of a fireball.
He is rarely still and he is very FAST and very ACTIVE. He plays with Stefnir & Tjaldari constantly, at
times chasing them in a full gallop and/or pace. He is not sensitive. He is very active and is
absolutely fearless (even in dealing with mature stallions) when he was quite young. Lakotah's
grandfather was one of the hottest stallions ever in Iceland. Lakotah is also very good natured
and easy to deal with on the ground.

Lakotah needs to gelded by it's new buyer, as he is not suitable for breeding.

Note: that fence behind him is well over 5.5 feet tall. If you are looking for a tall, active, goey,
fast and quite attractive five gaited boy, then Lakotah would be a very good candidate. All these
characteristics in one horse is not the norm and a large fast 5 gaited male like this is highly
desirable by folks that enjoy quite a bit more excitement in their mount. Tall (long legged) horses
like Lakotah have a broader (faster) speed range than most Icelandics with shorter legs. I do not
expect to ever have another one like this!
Lakotah is a good looking boy and is for sale to the right home only.
Lakotah's lineage



Go to the top of this page
---
---
6) Cheyenne frá LoneStar - High Quallity-- (Could be bred to Sjóli)
The pinto mare of Rut frá Litlagarði & Stefnir frá Staðartungu was born 2009.
She is predominately white with black markings, much like Lakotah. Cheyenne is a beautiful long
legged & a strong/stout mare. Cheyenne is quite active and is very five gaited. She has very good conformation
and movements. I would even say that Cheyenne is also a very attractive mare, especially her face & head.
Grandsires: Fengur frá Ibisholi and Markús frá Langholtsparti.
Markús has First Prize for offspring and Fengur is a World Tolt Champion.
Both of these stallions have a 9.0 for tolt!
She traces her lineage to the following Honor Prize stallions: Þáttur frá Kirkjubæ,
Orri frá Þúfu, Hrafn frá Holtsmúla, 1st Prize Otur frá Sauðárkróki
and the famous 1st Prize Honor mare Siða frá Sauðárkróki
(from which she traces her rather unique color).
Like her mother (Rut), Cheyenne is a very powerful broad chested & broad backed mare. She is the
largest of the roughly 10 year olds. See Rut under "Mares". Rut is competition quality, and I'd expect Cheyenne
to follow suit with even more pace and natural lateral movements, typical of Stefnir's offspring.
Cheyenne is for sale to the right home only. She is ready to start her initial training now.
Cheyenne has an interesting white "queston mark" under her throat. She could be bred to Sjóli.
Cheyenne is a large strong mare already and probably the most tallented of five horses of 2009.
She has a good temperament & runs around a bit more than the other mares her age & gets the other mares
moving also, but she gets along well with them.. Her mother (Rut) is the most powerful horse on the farm.
Not even the stallions mess were her if she says not to. -)
Cheyenne is tall and large, very strong and very evenly five gaited. Probably weighs over 850lb.
Cheyenne's lineage


Fence behind is six foot tall.


---
Go to the top of this page
---
Ræna frá LoneStar
- Call for Price
Ræna is the very pretty mare of our Elja (Kolkuos/Svadastadir mare) and Stefnir, arrived 7/23/09.
She has a rather stout yet refined conformation & is quite active. She's a chestnut dun,
with a small star. I'm quite impressed with this mare.
I was so impressed with Ræna that I decided to breed her mother (Elja) to a first prize stallion,
for a foal in 2010: Rún. Ræna is very flexible just like her full blood sister, Ljúfa .
She traces her lineage to the following stallions/mare: Hörður frá Kolkuósi,
Lettir frá Kolkuósi, Stigandi frá Kolkuósi, Rauður frá Kolkuósi
Kristall frá Kolkuósi (9 for tolt), Hrafn frá Holtsmúla, Fengur frá Ibisholi
and the famous first prize Honor mare Siða frá Sauðárkróki.
Ræna is an amazingly good looking mare with exceedingly good conformation,
with a long reddish/flaxen mane & an attractive face/head.
Ræna is 5 gaited, but often trots as she is somewhat trot concentric.
Meaning that her trot is rather dominate, like her mother & older sister.
Ræna's lineage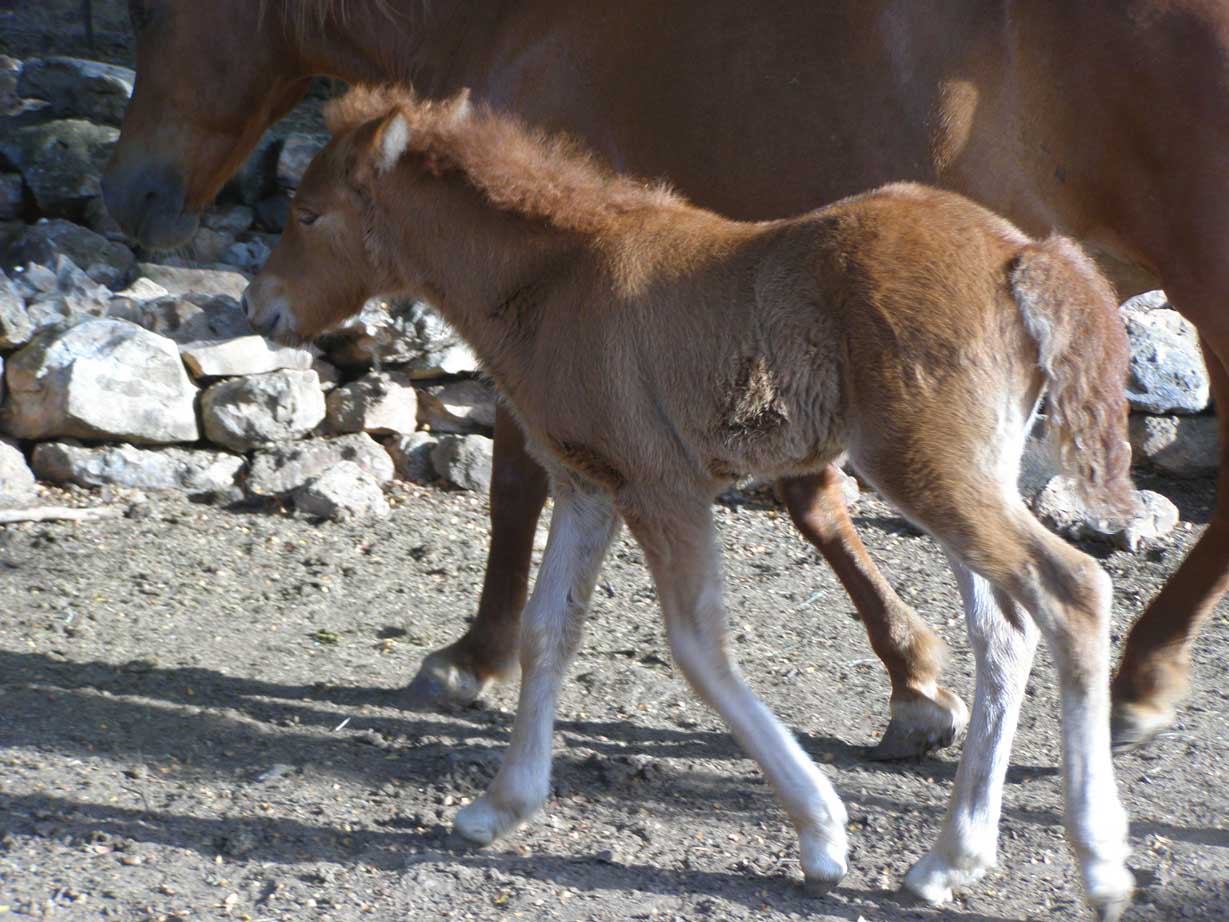 ---
Go to the top of this page
---
---