---
Stefnir frá Staðartungu
Meet Stefnir frá Staðartungu, our 2nd prize stallion, son of Fengur frá Ibisholi,
a 1st prize stallion & World Tolt Champion, Germany 1999 (9 for tolt). (see picture below)
Fengur won the WC because his beat was perfect. He did not have the hightest lift.
Stefnir has the same quality. His tolt is perfectly clean even when he is barefoot.
Stefnir's mother was sired by Glæsir frá Sauðárkróki, the son of Siða frá Sauðárkróki,
the first 1st prize Icelandic mare to have received an Honor Prize for her offspring.
Stefnir traces his color to his great grandmother, Siða frá Sauðárkróki.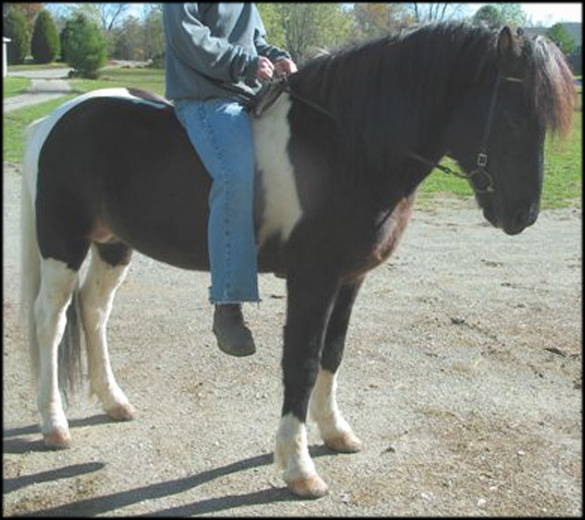 Stefnir is now standing at stud at our farm. He has a wonderful (even playful) temperament with a
very good & calm mind. Stefnir has received an 8 for conformation (which is first prize) and has
received an 8 on each of his riding scores, except 7 for pace, 7.5 for trot and 8.5 for walk.
Stefnir is five gaited, with strong withers, a refined head, with good neck/shoulders,
which he holds up well under saddle. He has good legs, excellent back, croup, hooves
and with nice overall proportions, which he is passing along to his offspring. I would expect
most to be at least second prize for conformation and several to approach first prize.
Stefnir's appearance is quite striking with his white stocking feet and white tail with a
black inner core. He is very willing to please his rider. Stefnir is without faults.
He is throwing close to 50% pintos so far. In 2009, he threw three pintos out of four foals.
Stefnir also seems to be throwing more fillies than colts, at least so far. Several of his
offspring are showing a clean tolt within hours if not within a few days of birth. See Tjaldari,
Cheyenne, Esja & Orka. Almost all of his offspring so far are five gaited, even out of mares
that are four gaited.

We are very pleased to have Stefnir join us in Texas. He is producing very nice offspring.
Stefnir's first colt born here at LoneStar (Tjaldari), literally tolted out of the womb.
We're expecting Stefnir's best crop ever to arrive in the summer of 2009, as he has been bred
to the best mares that he has ever had the opportunity to breed.
Stefnir is registered in the US: US1997103269. The folowing pic was taken at age 4-5 before
his mane & forlocks had grown out, and he is a bit heavy and not in peak physical condtion.
See the pictures below, taken at age seven.

With Stefnir's consistent good scores in both conformation and ridding abilities,
he should go well with any Icelandic mare, either four or five gaited, especially if you
are looking for a good clean tolt. Stefnir is throwing mostly five gaited offspring, even out
of four gaited mares. Stefnir is a proven stallion, both in Iceland and in the US.
So far, he has thrown at least 5 strongly five gaited offspring out of seven, even out of
four gaited mares. See Tjaldari, Lakota, Cheyenne and Esja as good examples. I suspect that
only perhaps one out of seven offspring may be four gaited, though I am not yet sure.
Following pictures taken age 7.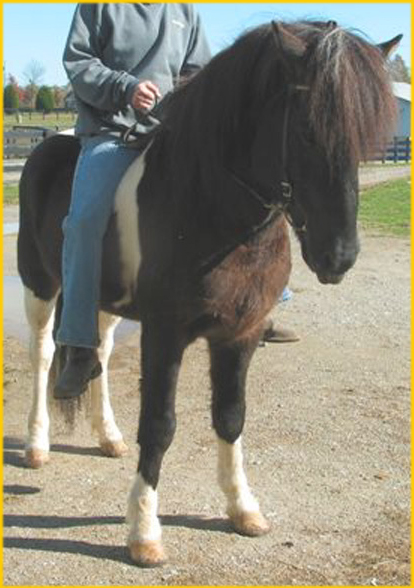 Stefnir in tolt, though the picture was not taken at the apex of his lift. His right front leg
is still ascending, see the weight on his left front and his left rear foot is not yet kicked back.

Sire of Stefnir:
Fengur frá Ibisholi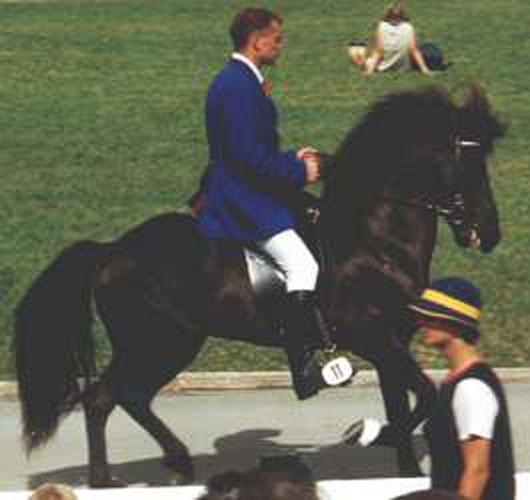 Maternal Grandfather of Stefnir (son of Siða frá Sauðárkróki):
Glæsir frá Sauðárkróki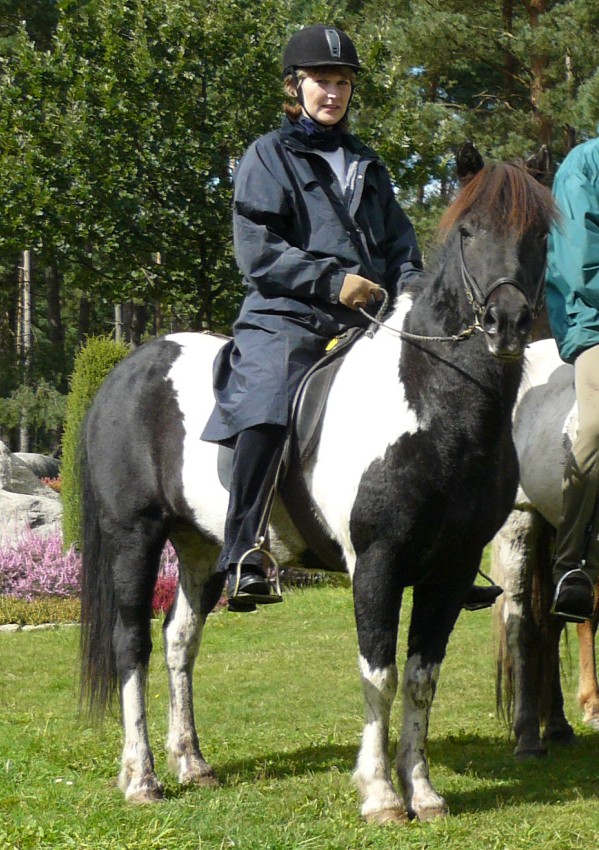 ---
Cheyenne frá LoneStar
The pinto filly of Rut frá Litlagarði & Stefnir frá Staðartungu was born 6/27/09.
She is predominately white with black markings, much like Lakota. Cheyenne is a beautiful girl.
Cheyenne is quite active & is very five gaited. She has both very good conformation
and very good movements.
Grandsires: Markús frá Langholtsparti and Fengur frá Ibisholi

---

---
<[[ © 2001-2018 C E C, No portion thereof may be used without permission.]]>

---
---